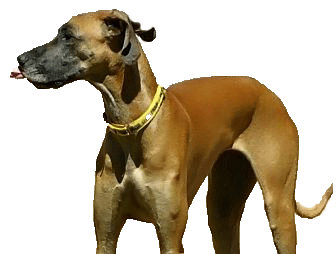 WHO WE ARE

We are the largest Great Dane rescue group working in the state of Arizona and have been doing so for over 20 years. We are dedicated to providing the best care and the proper placement of Great Dane dogs in need.

If you are ready to open up your home to a Great Dane for adoption, we will be happy to match you with the right animal.

If you are not ready to adopt but would like to foster a Dane, we would love to speak with you as well. Fosters are always needed and they save lives!

Looking to get a Dane but want some more information about the breed first? We'll be happy to talk to you.

Maybe you have a Dane that's a handful? Want some tips and advice on how to care for them better, or how to train them to follow your lead? We can help with that as well.

If rehoming is your only remaining option, please contact us and we will do our very best to help you in that difficult situation.


Join us on Facebook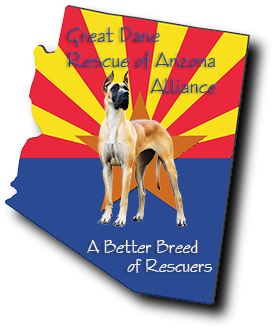 PLEASE SPAY & NEUTER YOUR PETS


The following site contains good information on the local spay/neuter clinics and the financial assistance available through the Maricopa County:

http://www.maricopa.gov/Pets/snip.aspx

While each situation is unique, it is generally advised not to spay/neuter the dogs while they are rapidly growing (at least during their first 12 months). Also, a female should NEVER be spayed when she is coming into season, is in season, and for the two months after. Performing the surgery during this 3-month period (approximately) would put your dog's life at risk.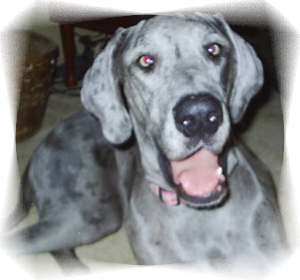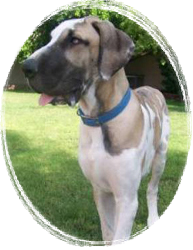 VALLEY FEVER


Valley Fever (VF) has become a serious health concern for pets over the past 15 years due to the population growth & development in AZ. VF is NOT contagious. It is a fungal spore in our soil. Our vets have seen an alarming increase of cases in their practices.

Your dog could be at risk if you show your dog or travel through an area where VF is prevalent, including California, New Mexico, Texas, Southern tip of Nevada, and Arizona. The risk arises when you return home and your local vet is not experienced enough with VF for proper diagnosis. This can lead to your dog's illness being misdiagnosed, leading to your Dane getting sicker or even dying before proper treatment is administered.

In most cases, VF is treatable, but it needs a proper diagnosis so the right medicine can be dispensed. Please take the time to thoroughly research information about VF. This way if your dog is affected, you will know what to do and what questions to ask your vet.

The site below is a good starting point to learning more about VF:
http://www.vfce.arizona.edu/valleyfeverinpets/default.aspx
MEET OUR DOGS


Great Dane Rescue is done by volunteers who are dedicated to helping Great Danes in Arizona find a FOREVER home. We do not have a shelter for you to visit as everyone works out of their homes. We have several reputable rescues that are currently working with the Alliance. If you see a Dane or "non-Dane" on our Available Dogs page and you would like to meet him or her, please contact us to make arrangements.


GREAT DANE RESCUE OF AZ ALLIANCE
P.O. Box 86745
Phoenix, AZ 85080
Phone: 623-869-0409 Msg Line
Email: greatdanerescueofazalliance@hotmail.com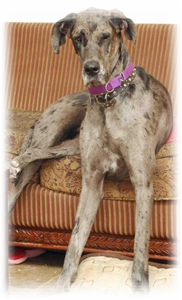 MOONSOON SEASON

Keeping Pets Safe During Monsoon Storms


High humidity, blowing winds and crashing thunder are usually signs that the monsoon season has arrived. While the storms and rain may be welcome weather for some, this can be a source of distress for pets.

- Keep pets indoors. Loud thunder and blowing winds can scare even the calmest of pets. It is not unusual for dogs to jump over or dig under fences in an attempt to escape during violent storms. They might also bolt out the front door.

- Create a safe place. A spare bedroom or extra bathroom is a great place to keep pets until the storm passes. Be sure to include bedding, food, water, a few favorite toys and litter box for cats. If possible, find a room without windows. You can also turn on a radio or tv to help drown out the sound of the storm.

- Distract your dog. If your dog is beginning to get anxious, try engaging them in any activity that will capture their attention. Practice basic commands or play fetch and be sure to offer lots of praise. If they begin to lose interest, stop the process and move them to their safe place.

- Don't punish your pet for being afraid and don't try to force them to experience the sound. Behave normally, don't reassure, soothe or give treats to your dog when they are afraid (this may reinforce the behavior).


BECOME A MONTHLY SUPPORTER:

By supporting us with a monthly donation, you are making a big difference in the well-being of the Great Danes we save. As you can imagine, their daily care is quite costly. A monthly supporter commits to just one year at a time, but if you are no longer able to contribute, you will have the option of cancelling at any time.
BLOAT IN GREAT DANES

Bloat is a Dane's worst enemy. Please be sure to feed your Dane 2-3 times a day with smaller meals instead of one large meal per day. Give them plenty of water. And please make sure that they rest a full hour before and after their meal. No active play sessions, romps in the yard, walks, or things that might cause them undue stress. They can certainly go outside to use the restroom, but other than that, it's best for them to lie down and relax.

Your Dane may be suffering from bloat if his/her stomach looks swollen, the dog keeps trying to belch or vomit unsuccessfully, there's excessive salivation, shortness of breath, cold body temperature, pale gums, rapid heartbeat, or if the Dane collapses.

If your Dane displays any of the following symptoms, or especially several of these, take your dog to the vet IMMEDIATELY - their life is in danger. Early detection and medical attention is their only chance to survive.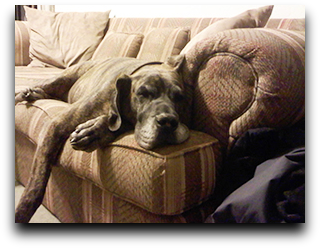 (This Dane demonstrates the proper before/after meal posture)
Please consider a Donation.
No Donation is too Small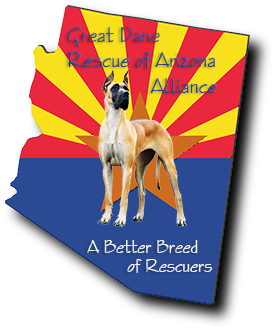 Set up one time donations or monthly donations
through your own bank's bill pay, or mail us a check.

Send your donations to:

GREAT DANE RESCUE OF AZ ALLIANCE
P.O. Box 86745
Phoenix, AZ 85080